Olomouc Scientist Awarded Prestigious ERC Grant for Groundbreaking Graphene Ink Research
Michal Otyepka, a distinguished physical chemist from CATRIN, Palacký University, has been awarded a highly coveted Proof of Concept (PoC) grant by the European Research Council (ERC). The grant aims to support the development of innovative "graphene" ink for the production of stable, sensitive, and selective electrodes used in various biosensors. Otyepka's remarkable achievement marks his fourth success in the ERC grant competition, an unprecedented feat in the Czech Republic. Among 66 PoC grants awarded in the second round of this year's competition, the Czech Republic secured a single grant.
"Receiving the grant was truly exciting. Being an ERC Consolidator grant holder allowed me to submit up to three proposals in the Proof of Concept category, and I am thrilled that all three applications were successful, thanks in no small part to the unwavering support of my team. This newly awarded grant represents a pivotal opportunity to bridge the gap between our research on two-dimensional graphene derivatives and real-world applications," expressed Otyepka with enthusiasm.
The primary objective of the GRADERINK project, funded with a budget of 150,000 euros, is to prepare graphene-based ink optimized for printing electrodes with exceptional sensing capabilities. Biosensors play a crucial role in various fields, from medicine to environmental monitoring. They offer rapid detection methods for microbes, antibiotics, pollutants in water, and markers for diseases, as highlighted during the Covid-19 pandemic. "Graphene, a two-dimensional carbon material, possesses unique electrochemical properties and large surface that make it an ideal candidate for biosensor electrodes. Currently there is no ink with graphene or similar carbon material on the market that is sufficiently sensitive and suitable for electrochemical detection of various substances and at the same time compatible with available ink printing technologies," said Otyepka, explaining the research innovation potential.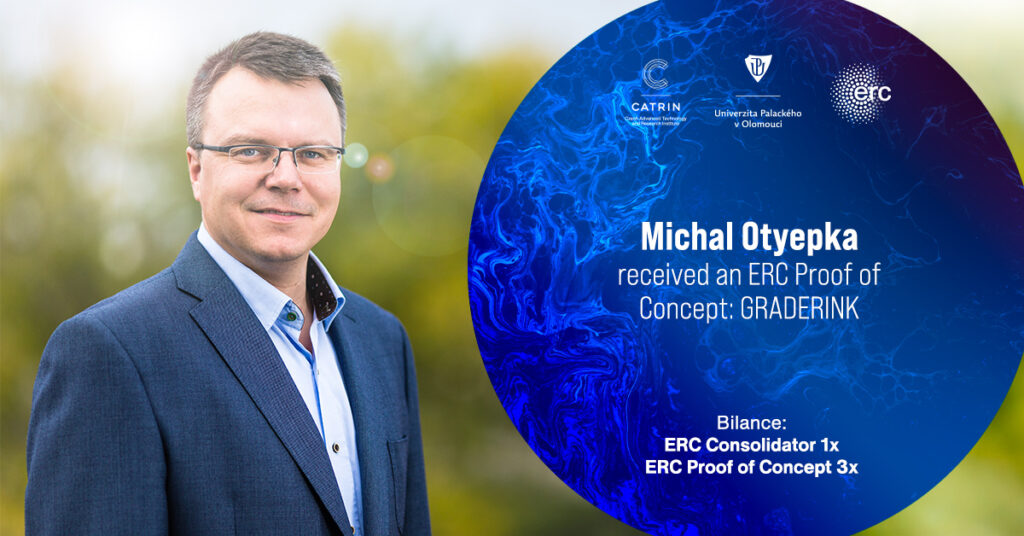 The primary objective of his team is to utilize graphene ink for printing sensors with bonded biomolecules, enabling them to capture specific substances. Previous research by CATRIN scientists has successfully demonstrated the simplicity of attaching biomolecules to the graphene structure using click chemistry. "This breakthrough allows us to purposefully design graphene derivatives, each tailored to be highly sensitive to different analytes, and then create ink from these derivatives. With the ability to interchange the ink, we can directly fabricate electrochemical sensors capable of detecting various types of analytes. This versatility stands as one of the most significant advantages of the project. Additionally, the ink's compatibility with existing material printing devices streamlines biosensor preparation, enhancing reproducibility," emphasized the scientist.
Over the next 18 months, the research team will meticulously verify and optimize the technology at a laboratory scale. The plan includes producing significant quantities of graphene ink and thoroughly testing its performance. Notably, the team has already garnered interest from various industrial partners eager to contribute to the commercialization of this groundbreaking technology.
The ERC's Proof of Concept programme aims to accelerate the commercialization of research findings from previous ERC grants. Otyepka received the first ever ERC PoC for the Czech Republic in 2020, the aim of which was to prepare and test one of the graphene derivatives for energy storage in supercapacitors. Thanks to his second PoC grant from 2022, CATRIN researchers investigate the use of sulphur-doped graphene in lithium-sulphur batteries. With this latest PoC grant, Otyepka and his team are poised to revolutionize biosensor technology and its impact on various industries, following his ERC Consolidator received in 2016 dedicated to understanding the chemical rules of 2D ultra-thin carbon nanomaterials.
In the highly competitive second round of the 2023 competition, the ERC evaluated 183 PoC proposals, ultimately selecting 66 projects from 14 countries. Spain emerged as the leading recipient, securing 12 grants, followed closely by Germany with 9, Great Britain with 8, Italy with 7, France with 6, and both Belgium and the Netherlands with 5 each. Moreover, three projects each were chosen in Ireland, Israel, and Denmark, while two deserving initiatives earned support in Sweden. Notably, one prestigious grant has been awarded to exceptional researchers based in the Czech Republic, Austria, and Portugal. The Czech Republic's exceptional track record now boasts a total of five PoC grants, three of which have been secured by Michal Otyepka.
Founded in 2007 by the European Union, the ERC is at the forefront of funding cutting-edge research across Europe.
---
Author
Martina Šaradínová
---
July 27, 2023